Forums - [Not a Bug] On/Off Wall Lever models are wrong way around : Bug Report
Navigation
Share this page
BDcraft on Twitter
Follow me to get real time news. ;)
@Sphax84
Partners
| | |
| --- | --- |
| | It is currently 21 Mar 2018, 20:12 (All times are UTC ) |
[Not a Bug] On/Off Wall Lever models are wrong way around
| | | | |
| --- | --- | --- | --- |
| | Page 1 of 1 | [ 2 posts ] | |
Message
I was messing around with some redstone and I noticed that levers on walls seem to have the wrong on/off positions.
In this image, the lever is "on" when the lever is pulled down, away from the top contacts. The light on the switch also turns on when the lever is down:
When the lever is off, it's up and connected to the contacts:
For reference, a lever style switch in real life, in this case it would be off, not passing current to the contacts: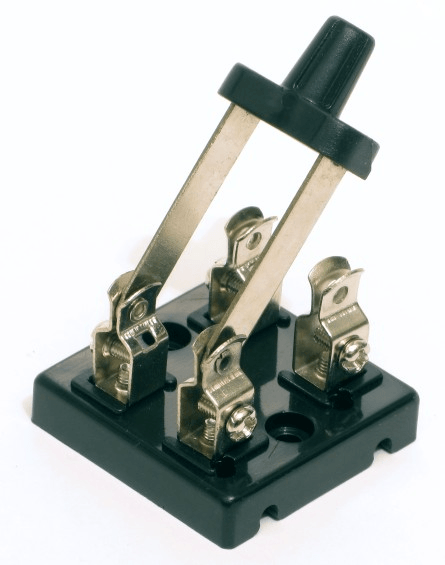 I messed around and swapped the model file names, but that didn't fix the light, which I wasn't sure how to toggle in the code. I've never messed around with minecraft model files before.
Overall not a huge issue, this one just got me because I used to mess around with these switches and a box of electronic parts when I was a kid.
Advertisement
Login to not show this ad



HanFox
BDcraft Lead Moderator

Joined: 16 Apr 2012, 00:46
Posts: 4750
Location: Hereford, England
Post subject:
Re: [Not a Bug] On/Off Wall Lever models are wrong way aroun
Posted:
09 Oct 2017, 08:32
| | | | |
| --- | --- | --- | --- |
| | Page 1 of 1 | [ 2 posts ] | |
Who is online
Users browsing this forum: No registered users and 0 guests
You cannot post new topics in this forum
You cannot reply to topics in this forum
You cannot edit your posts in this forum
You cannot delete your posts in this forum
You cannot post attachments in this forum