Have you ever wanted to use an awesome texturepack for the Yogcraft modpack? But never found a patch that was for just that? Well now your search is over! I created this patch for you, the community. Find all info download ECT below and of course happy crafting!
Read please
Thanks to the people who sent in messages about missing textures, if you find any more pm me with this as the subject [MISSING TEXTURES] Also if you have any questions/concerns send a pm my way, I'm happy to answer
Info & Updates
Show
Update 1:
*Released 128x patch
*Updated some textures that were not correct/broken
*Added screenshots
The folder I keep all the textures in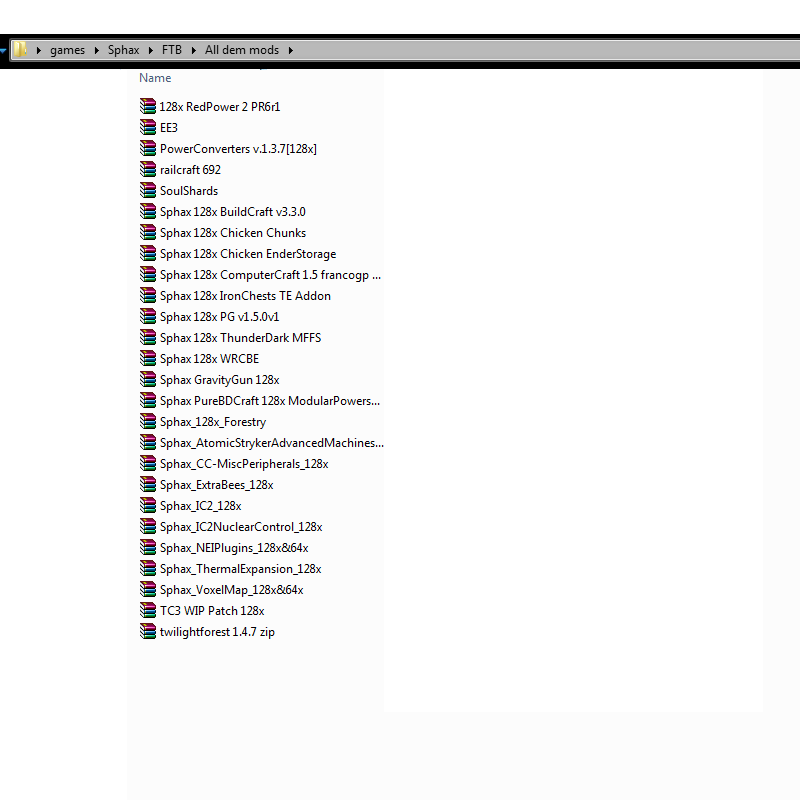 Note: Jesus so many views, for me its a milestone considering I have never posted something that turned out to be "popular" thanks guys!
Update 2:
For those of you who asked, 64x version has now been uploaded
Have fun on your laptops or you
not so high end computers!
Note: The Gravity gun has a texture in you inventory but not in your hand, I need to find out how to fix this.
If you know how to then please PM me how to
Note: Please do not post your own versions of this at least make your own post... Especially for downloads that are against the license *Does not point to Twisted3K*
Update 3:
Thanks to
Aluzhun
for giving me a list of what textures are missing and how to fix a problem with
the ironchest patch in the 64x version
*updated textures
*Steves carts for x128
*redpower for 64x
*Updated gravity gun texture (not sure if there is much change in it though)
*Many more
Note: Steves carts have not been patched for 64x guys sorry :/
Update 4: Because of work I won't be able to do much during week days, after about four weeks I am off again but I'm going to Crete to see my Aunt for I think five days.
Update 5: I will hopefully be creating my own "Patch" over the main menu name to the yogcraft logo but edited.
Installation
Show
1. Open up the FTB launcher and click on Yogcraft modpack
2. Click on edit modpack and open up Jarmods.
3. Install Optifine for 1.4.6 - 1.4.7 Found /
Here
4. Once done get the Original Sphax textures for 1.4.7 (Get 128x)
5. Download this file and put it into a .zip file along with the Original texture
6. Name it what ever you want!
7. Locate where you installed FTB and open Yogcraft/minecraft/texturepacks/ and put the .Zip file in there
8.Run the Yogcraft modpack click on the texturepack you chose,
9.ENJOY!
Downloads
Previews
Show
Thaumium Armour
Modular Power Armour
Portal Craft
Forcefield
Wireless redstone
Computer Craft
Golems
Redpower
Hives
Jar / Brain Jar
Thaumcraft Ores
Alchemical Bag
Thaumium Shovel
Thaumium Axe
Thaumium Pickaxe
Thaumium Sword
Thaumium Hoe
Credits
Show
-- 17 Jul 2013, 19:36 --
Hello all readers, sorry for not being able to reply to any questions / problems due to the new website migration all comments were lost in the migration :/
Feel free to start asking questions here!